Informal lunch meeting for States from the European region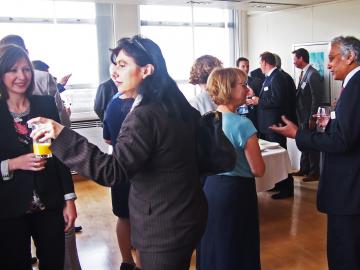 On 24 June 2015, the Director of the IOPC Funds hosted an informal lunch meeting for the UK-based representatives of States from the European region and Canada.
This small informal meeting was attended by representatives from both Member and non-Member States and provided an opportunity for those attending to ask questions and to exchange their views on various subjects such as the running of Funds' meetings, oil reporting, the contributions system, incidents and claims handling and the status of the HNS Convention.
In a welcoming statement, the Director reminded those present that the organisation, which belongs to the Member States, can only operate effectively if those States contribute to its work and deliberations. He also provided some updates on the ongoing discussions with the P&I Clubs on the issue of interim payments and highlighted the ever-growing need for the entry into force of a HNS Convention before a large HNS incident occurs. Guests were also reminded that the next meetings of the IOPC Funds governing bodies will take place during the week of 19 October 2015 and that the agenda and invitation would be issued in July 2015.
Other regional lunch meetings will take place during 2015.